DREAM TIME FAIRY TALE CLASSICS
Volume Three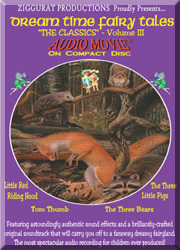 Classic fairy tales for children (and adults!) including...
Little Red Riding Hood
A little girl with red cloak and hood
Ventures deep into the wood.
To Grandmother's house she is to go…
But waiting inside....oh no, oh no!!
Goldilocks & The Three Bears
A mischievous girl with golden hair…
Disturbs the home of three big bears.
When they return to what's been done…
Watch out, Goldilocks....you better run!
The Adventures of Tom Thumb
A boy named Thumb who is very small…
Has great adventures and is loved by all.
The King, his court, and the Fairy too…
Are amazed by Tom, and so will you!
The Three Little Pigs
The big bad wolf has come to town…
To blow the three pigs' houses down.
Which house still stands when all is done…
The straw, the wood, the brick...or none?!

Running Time: 42 Minutes

Retail Price: $15.00
Special Internet Price: $12.00


Also available as a "Cassette Blowout"
Retail Price: $10.00
50% off 'Blowout' Price): $5.00