DREAM TIME FAIRY TALE CLASSICS
Volume Four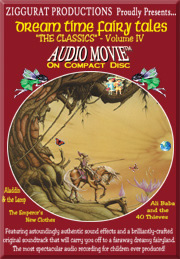 Classic fairy tales for children (and adults!) including...
Aladdin and the Magic Lamp
A boy took a lamp from an evil man…
And discovered great power now in his hand.
All was well when the genie was near…
Until the lamp and the princess disappeared!
Ali Baba & the 40 Thieves
"Open Sesame" were the magic words…
Ali Baba one day overheard.
A cave of treasure lay in the sand…
But 40 thieves were very close at hand!
The Emperor's New Clothes
The Emperor was rich, and vain to boot…
He ordered clothes that cost a loot.
But when he flaunted his brand new gown…
He was laughed at by the entire town!


Running Time: 40 Minutes


Retail Price: $15.00
Special Internet Price: $11.00


Also available as a "Cassette Blowout"
Retail Price: $10.00
50% off 'Blowout' Price): $5.00