THE BEST OF JACK LONDON
Volume Three
"LOVE OF LIFE"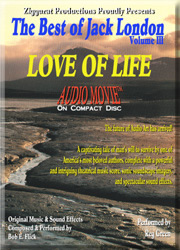 Classic literature brought to life!

LOVE OF LIFE
Experience first-hand the dramatic ebb and flow of emotion as classic literature is transformed into the world of your imagination like never before.

After being separated from his partner in the lonely tundra of Canada, one man struggles to survive an unforgettable journey through time, hunger, and insanity. Only one emotion could sustain him through such a bleak, treacherous, never-ending twist of mountains against the fearful loom of oncoming winter. Only one feeling could overcome countless days without food, dwindling supplies, wild animals, bleeding ankles, and persistent hallucinations. Soggy moss, icy water, human bones, and the dramatic vision of a ship that may or may not be real…were all only temporary obstacles to the grand motivation within, the indestructible love of life. A classic tale of adventure by one of America's most treasured authors.

Running Time: 62 Minutes


Retail Price: $15.00
Special Internet Price: $12.00