EDGAR ALLAN POE
Volume One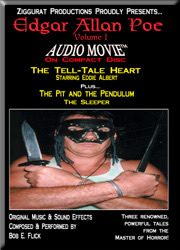 Classic literature brought to life!

INCLUDES 3 TALES FROM THE MASTER OF HORROR!

THE TELL-TALE HEART (Starring Eddie Albert)
After hiding his murder victim underneath the floor boards, a man is tormented by the incessant beating of a "tell-tale" heart.
The Pit and the Pendulum
Bear witness to the executioner's dungeon torture as a sharp pendulum swings closer...and closer...and closer!
The Sleeper
A chilling poem from the Master of Horror!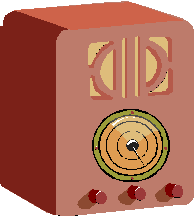 Click on the radio to listen to a clip.

Running Time: 74 Minutes



Retail Price: $15.00
Special Internet Price: $12.00

Also available as a "Cassette Blowout"
Retail Price: $10.00
50% off 'Blowout' Price): $5.00