THE SPIRIT WORLD
of the Neanderthals
(instrumental)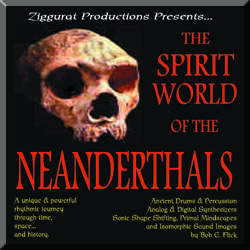 Original Music and Sonic Soundscape by Bob E. Flick

THE SPIRIT WORLD OF THE NEANDERTHALS
A unique & powerful rhythmic journey through time, space...and history. The Neanderthals survived over 200,000 years. The Paleolithic world in which they lived was the size and shape of the Great Roman Empire. The Ice-Age conditions in which they existed proved extremely harsh...the last Glacial Maximum. But now, they were on the threshold of extinction.

Intricate patterns of drums and percussion weave in and out, creating complex ceremonial rituals while electronic soundstreams swirl in a surrealistic spirit world over a foundation of hypnotic polyrhythms. Music tells the story in this instrumental delight!

Running Time: 67 Minutes


Retail Price: $15.00
Special Internet Price: $12.00