STAR CRUSADERS
of the
Earthian Foundation
Second Crusade: "Mass Extinction"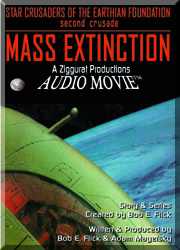 An original Science-Fiction series!
written by Bob E. Flick & Adam Mayefsky

STAR CRUSADERS OF THE EARTHIAN FOUNDATION
Second Crusade: "Mass Extinction"

All species eventually become extinct, except man the wise...so he thinks.

While orbiting the Planet Vultrex in the year 2949, the Starship Helix received an emergency translight beacon ordering all five Earthian Foundation ships to return to earth. Can even mankind survive the catastrophic geophysical disaster?
Step into the future…into a dark, strange world where the genetically-created "Encapsulated Ones" have decided to alter the course of mankind forever!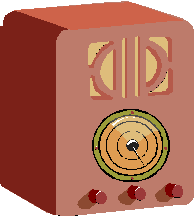 Click on the radio to listen to a clip.

Running Time: 1 Hour, 8 minutes


Retail Price: $16.00
Special Internet Price: $12.00


Also available as a "Cassette Blowout"
Retail Price: $13.00
50% off 'Blowout' Price): $6.50